Originally posted in 2016
Dive into 10 days of skiing, apres, parties and live music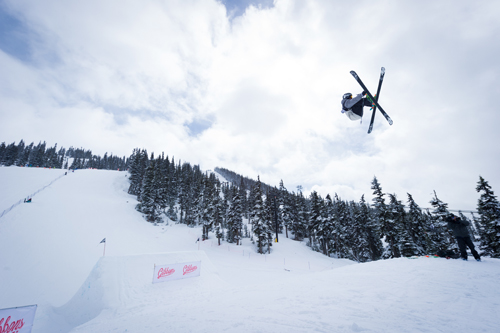 Parties, skiing and entertainment await at the World Ski & Snowboard Festival.
Photo by Mike Crane
Whistler's epic spring closer - the World Ski & Snowboard Festival - celebrates its 21st year as one of the best spring festivals on the planet from April 8-17, 2016.
SnowSeekers wants to help you peel back the curtain and experience this 10-day marathon of good times just like local Whistlerites do. Grab your goodie bag of swag (thanks to WSSF's sponsors)  and dive on in, the fun is more than fine. 
Buy your event tickets now
If you're coming from afar and your name isn't Mark McMorris (aka Olympian X games medallist), get your WSSF plan dialed and buy those coveted event tickets now. Sure sellouts include Olympus Pro Photographer's Showdown and Olympus 72 Hou Filmmaker Showdown. I am also hearing a strong buzz on the streets for Intersection and Multiplicity.
Here's the link to the event dates and online tickets. You'll thank me later. 
Technology is your friend
Get your phone set up with the WSSF App featuring a digital lighter for the Fido Outdoor Concert Series, Whistler Blackcomb's very cool WB+ app so you can humble brag in great detail about how many runs you've slayed. You can also peruse your accommodation options here so you know where you'll be charging your phone each night. 
When you book through WSSF you'll be able to access rooms starting at $99 per night, all within stumbling distance of events and parties, not to mention take advantage of free apres when you stay two or more nights.
Want to kick it up a notch? Book WSSF's Ultimate VIP Package so you can do WSSF like a rock star and enjoy all-access to events and parties while living like royalty at the slope-side Westin Resort & Spa. 
Discover the undiscovered
For the first time, WSSF will include a big mountain ski competition as part of the on-snow events. The International Freeski and Snowboard Asssociation (IFSA) event challenges the best ski and snowboard groms (12-18 years old ) in the world to shred big-mountain terrain, while judges score them on style, control, technique, fluidity and line choice. These rippers from around the world will blow your mind, and they aren't even old enough to enjoy apres yet! 
Feel the beat
The Fido Outdoor Concert Series has partnered with Spotify to identify the most searched and listened to Canadian artists from the Sea-to-Sky Corridor, Lower Mainland, Vancouver Island, and surrounding areas to help build the artist line-up on the Fido Main Stage during WSSF. How cool is that? From the heavy-hitting beats of Chromeo to country crooner Tim Hicks, the Fido music line-up is sure to rock WSSF's world. Get primed with the ultimate WSSF playlist on Spotify now, #FidoShreds.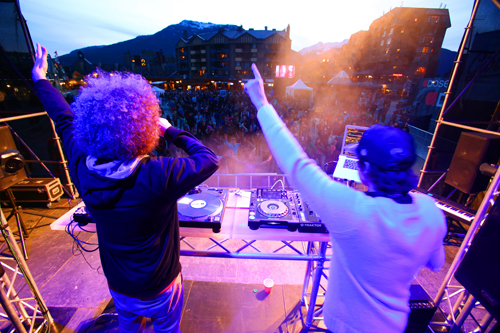 Get ready to dance and hear your favourite new musical talents.
Photo by Dave Humphreys
Play with the locals
You can probably get up close and personal with some "locals" using an app like Tinder. My recommendation would be to up your chances of meeting real, homegrown Whistler talent by hitting these events at WSSF sure to attract locals.
Earn your apres
Whistler Blackcomb is enjoying one of its best seasons ever with over 1,200 centimetres of snow this year, so be sure to save some steam for skiing and snowboarding. Besides checking out on-snow events, including the Monster Boarderstyle and the IFSA North American Junior Freeride Championships, make your own tracks. Borrow the latest gear from the Demo Park and hit up the Halfpipe Fam Jam for a good old-fashioned spring pipe session.
You'll have earned right to start the party early with an icy beverage on a mountain patio. Don't miss the Monster Energy DJ booth at the Glacier Creek Lodge on Blackcomb that's sure to blow your face off.
For more information about the World Ski and Snowboard Festival head on over to FestivalSeekers.com for the event outline.
Want awesome festival news on your facebook feed? Give us a follow.
Are you ready to hit up the world ski and snowboard festival? Share this page with your friends and start making plans. 
For the latest deals, snow reports and contests, sign up today to our SnowSeekers e-newsletter.