KEVIN PRISIAK
Never having been to Red Mountain Resort, or Rossland for that matter, I had no idea what Chris and I were in for. A quick drive through the town, and it was quick—with a population around 3500, Rossland is pretty small—we made it to Red Mountain in about 3 minutes. Scoping out a couple of different places to stay, we decided on the Ram's Head Inn.
The Ram's Head Inn is a quaint little bed and breakfast situated about a 5 minute walk to the lifts, which is perfect. The Ram's Head has a hot tub, sauna, guest ski storage, and one hella awesome breakfast every morning. After a hearty breakfast, we were off to explore Red Mountain Resort.
After trekking through a bit of trees and a parking lot, I'm already getting on a lift. First impression – this place is massive! I can see terrain everywhere! The trail maps reveal that there's a fully accessible backside as well. 360 degrees of mountain to explore, with lifts all around … it is a perfect setup.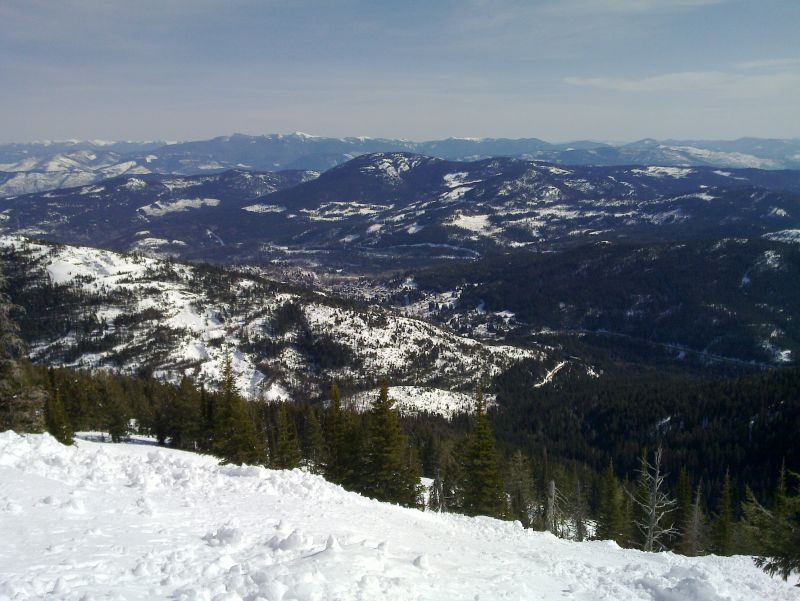 Photo courtesy of Kevin Prisiak
Granite Mountain is the main show, with Red Mountain providing some awesome terrain as well.  I didn't really keep track, but I am pretty sure that Red got more love from me, as I rode the long blue groomed cruisers over and over again – I absolutely loved speeding down those runs without a soul in sight. The snow was in perfect shape for getting maximum speed. Chris has an app on his iPhone, and I think he clocked himself at around 92km/h.
The day was wicked sunny. It was a spring ski day, for sure. Finally … a goggle tan! A stop at the Paradise Lodge at mid-mountain for some beverages provided some much needed tan time. It looked like everyone else on the mountain was there – young and old alike were loving the sunshine out on the Paradise Lodge's wonderful deck.
Checking in with the locals, nobody was bragging, everyone told me to stay on the groomers, and if I felt adventurous, make a trek (a 20 minute walk) over to some back country for untouched (all season long) powder. Such awesome honesty is only found in a place like this – pretentious is out the window!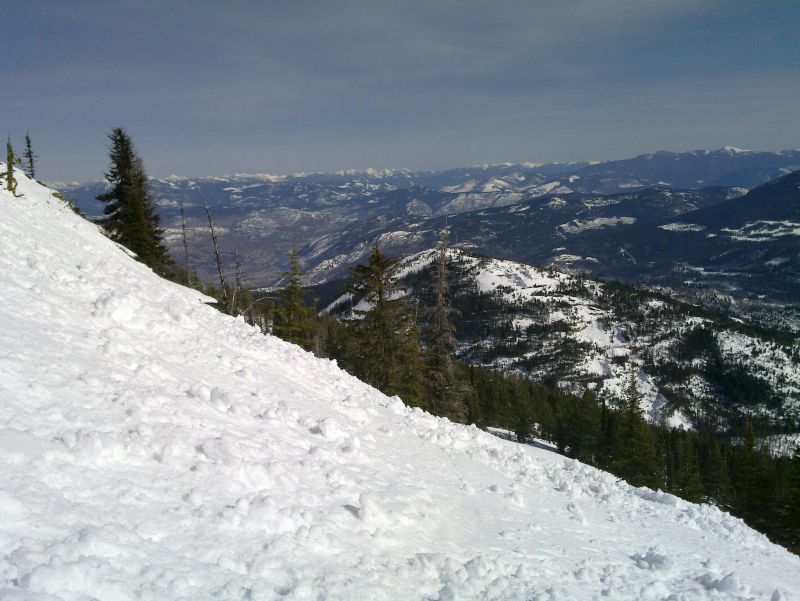 Photo courtesy of Kevin Prisiak
With the sun shining, it doesn't take long for the hill to heat up; by 11 am we are already feeling the snow soften up. It's great, and will most likely be in awesome shape for spring skiing. There is a lot of snow on this mountain, regardless of the fact there were only 3 cm in 7 days.  But once the sun came out it only took a couple hours to make that snow ready for carving fun. 
Red mountain is somewhere I must come back to. They have tons of events planned pretty much until they shut the hill down in April. If you are looking for some awesome spring riding later this season you might want to consider Red Mountain Resort. The friendly people and wicked terrain will make it worth the drive.
Photo courtesy of Kevin Prisiak