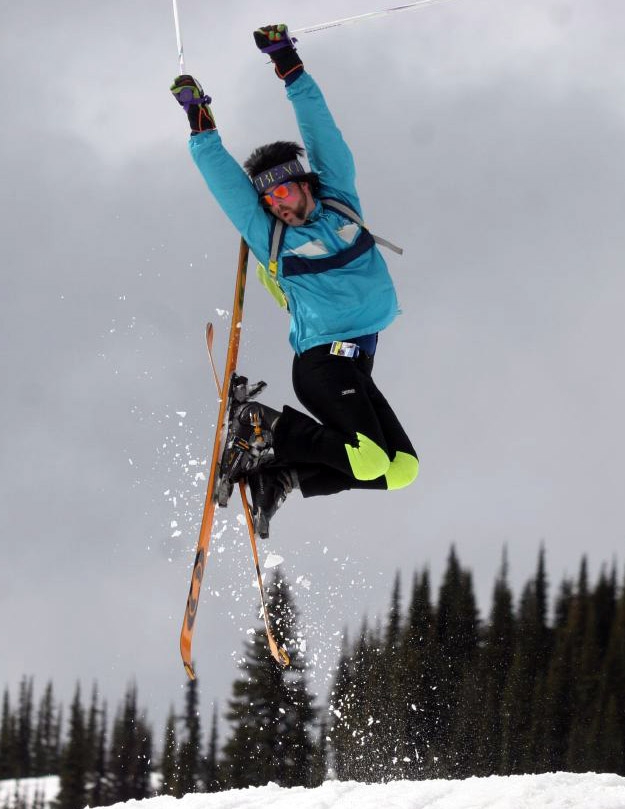 Mullets, neon, stretch pants and K-Way jackets are totally acceptable attire for Retro Day.
Photo courtesy of Silver Star Resort
STEVE MACNAULL
VERNON, BC - You're invited to be completely badass this final week of the ski season at Silver Star Mountain Resort near Vernon, B.C.
Don a powder blue tuxedo with frilly shirt or skintight one-piece neon suit to ski on Retro Day.
Break the flower prints out for Hawaiian Shirt Day closing day.
US friends: With the exchange rate in your favour, why not come and visit your neighbours in the great white north this winter? Explore winter deals and getaway packages at SilverStar Mountain resort.
And also on closing day, strap almost any homemade contraption on skis or a snowboard and propel it down the hill as part of the Dummy Gelunde event.
Other acceptable attire
Retro Day also allows you to rock a mullet hairdo, legwarmers, cat eye sunglasses and listen to music on your cassette tape Walkman, too.
?Usually skiers recreate the ?70s and ?80s,? says Silver Star manager of resort services Robin Baycroft.
?But last year we had a guy totally channelling the 1950s with wooden skis and wool pants with those long wool socks pulled up over the pants to the knees.?
Strut it
While there will be plenty of retro to gawk at (and laugh at) on the slopes throughout Retro Day, it will all culminate in the Village centre at 3 p.m. with a dance off and fashion show to hits of the ?70s and ?80s.
Shake your perm to Pat Benatar's Hit Me With Your Best Shot, do your best catwalk in neon to Bon Jovi's Livin' On A Prayer or unzip your one-piece to Madonna's Like a Virgin.
Hawaiian shirt day
This event started in years past when managers serving up the season pass holders lunch barbecue on the final day (this year April 6, 12 p.m.) sported gaudy Hawaiian shirts as a salute to the mild spring weather.
It's grown - as all things outrageous tend to - into a day when everyone pulls their Aloha wear out of the back of the closet.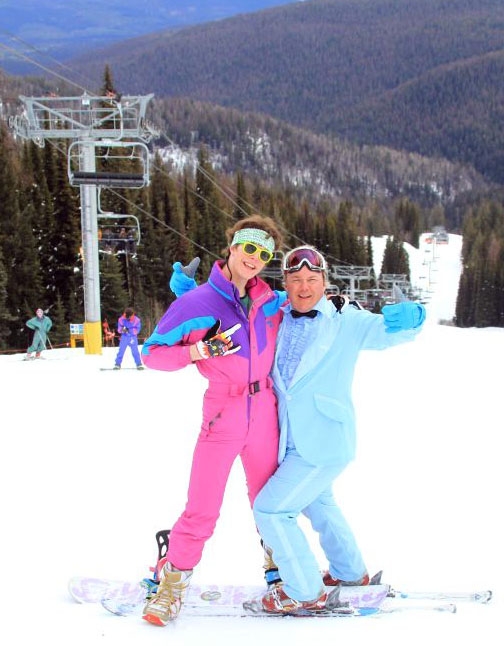 Don't be afraid to go all out outrageous for Retro Day at Silver Star.
Photo courtesy of Silver Star Resort
It could go on
Reality is the Okanagan's mountain weather could easily see the ski season stretch another month.
?But by the time it gets sunny and warm on the valley floor just after Easter, Okanagan residents turn to  gardening and golf,? says Baycroft.
?So we shut down and get ready for our summer season (of mountain biking and hiking) and next ski season.?
Final deets
Final weekend will still see all 3,065 acres of terrain open with 12 lifts servicing 115 runs.
Daytime high temperatures could reach 0 and there's still snow accumulating on the eight-foot alpine base.
Story links:
For the latest deals, snow reports and contests, sign up today to our SnowSeekers e-newsletter.